The two main approaches people seem to be taking for virtual awards are either completely pre recorded (either from people's homes or in a studio), or live often linking to pre recorded elements. There's no one correct solution, and it depends on what suits your particular audience.
In terms of comedic talent, doing a standard 10-15 mins opening spiel rarely works due to lack of audience reaction, however a co host can allow for some comedic sparring. Musical comedy can also work well (by its very nature, the performer can't wait for laughs before going to the next verse), while in the case of a live virtual, something that can be interactive with the audience works especially well.
Some ideas are: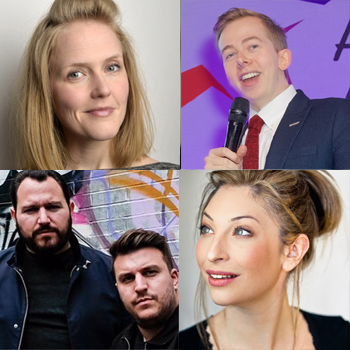 Jess Robinson - Jess is a musical impressionist, being able to sing one song in the style of a completley differnet singer. For live awards, she can get the audience to vote on the singer/song combination.
Pippa Evans- A stalwart of corproate events, muscial comedienne Pippa can write a bespoke song for your event, incorproating industry/event references
Chris Turner- Freestyle rapper, extraordinaire. Chris took part in the first Lockdown Dine In, taking suggestions from the audience and creating a rap there and then.
DNA- Mindreading double act, Darren and Andrew joined us for the second Lockdown Dine In where we took an audience member and brought them up on screen during the show to do a virtual mind reading!